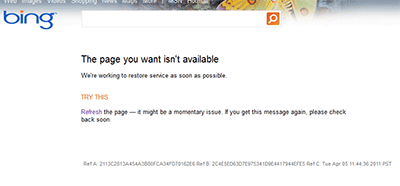 Yesterday's news was sprinkled with references to Federal anti-trust regulators looking into various aspects of Google's business.
Some arm of some agency was looking into Google's purchase of another software company while the Feds elsewhere were pondering the fairness of Google's search results.
I was listening to the almost gloating radio news reports about Google's woes as I was trying to help a couple clients gain visibility on the Internet.
I had no problem adding my clients to Google's places and on Yelp.  But, as I was listening to moaning from Google's competitors who suspect Google of improper market control, I was having my own problems with Google's most formidable search competitor, Bing.
Adding the first client to Bing seemed to be going well.  I spent several minutes going through screens adding location details on this page, opening hours on another page, and service details and firm history on following pages. I uploaded a couple of photographs and was getting pretty happy about what my client's Bing business listing was looking like.
Then I hit the submit button to post the entry.  I expected to be told that I would have to verify ownership through a phone call or other method of providing my rights to speak for the business.
Instead I received a message from Bing that they were sorry.  Their database was down for maintenance.  After letting me go from screen to screen entering my client's saga, Bing wasn't going to let me save and publish what I'd done.
I worked on Bing for a while longer, resubmitting my last page in the hopes that Bing would come back to life while my work still existed. No luck.  In fact, when I accessed Bing in other browser tabs, I discovered that in addition to the business database's lifelessness, Bing's search customization program was also down. The search customization screens also let you enter your preferences, but when you attempted to update your account, you were told that the page you were looking for was not available (see graphic, above).
Throughout the Bing FAIL, the news radio talkers would hype the headline of the Google's Federal troubles.
I just wanted to scream at the radio.  It's not Google's fault that they are dominant in the marketplace. Their stuff works!