This afternoon I logged on a Yelp business account.  The  account is for my church, the First Unitarian Universalist Society of San Francisco, and most weeks I post the weekly service description as an announcement in the 140 characters Yelp has offered for free.  The description shows up highlighted on the church's Yelp page so visitors can check out what's coming up that Sunday.
Today Yelp greeted me with a pop up saying that they were phasing out announcements and special offer notices August 11th.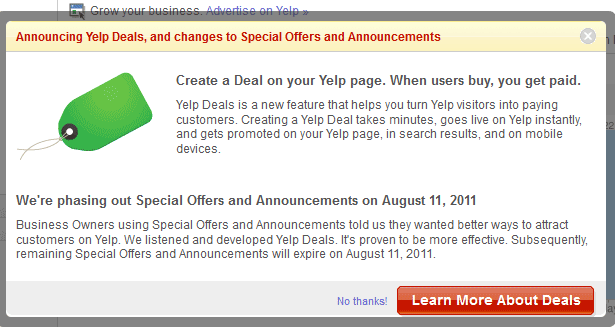 Yelp said they're stopping the free announcements because business owners had requested a better way to reach people. That smacks of an untruth, frankly. I doubt any business asked the free highlighting to stop so they can sign up and pay Yelp to offer special deals.
In fact, I am not even sure that as a consumer I need yet another deal-offering site.  Groupon, Living Social, and Google are all offering deals of the day — Google's announcement of a program for San Francisco was on the news just today.  Yelp and Open Table have also sent me deal emails in the past months.  A steadier stream of deals from Yelp won't be welcome in my inbox.
And,  really?  Yelp is making this change for my business, the church?  Wow.  What kind of Yelp deal should my church offer?
A special deal on salvation?  Unfortunately, hellfire isn't a part of Unitarian Universalist theology, so we'd have to work on exactly what we're offering.  We don't encourage visitors to contribute to the collection plate, so we cannot offer a discount there either. Would you want two sermons for the price of one, anyway?
But, I am sure Yelp's sales staff will call us and help us figure out something we can advertize.
Ultimately, it's disappointing that non-profit community groups are getting slammed in Yelp's zeal to monetize its pages.