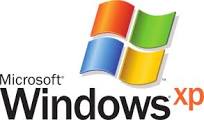 If you are running Windows XP on your computer you absolutely must upgrade it by April 8th or stay completely off the Internet.
If you use a Mac or have a PC running Windows 7 or Windows 8, you can click back to Facebook or Google yak breeding in New Zealand. This post doesn't concern you.
For Windows XP users: This is not a drill!
Here's why.
Microsoft has announced that it is discontinuing support for the Windows XP operating system on April 8th.  Computers with XP will continue to run, but Microsoft won't write any more code or offer any more fixes for that operating system.
That doesn't sound very alarming.  Your old computer will still work.  The operating system has been around for a long time, it's stable, and it's unlikely that suddenly some function will break.
The problem is that the bad guys of the world are waiting for Microsoft to stop updating XP so they can unleash code on websites and in emails that will exploit security holes in the XP operating system.
Every week since XP came out in October, 2001, Microsoft has responded to discovered security problems by issuing patches through Windows Update.  Bad guys kept finding new obscure security holes to attack your system, and Microsoft has kept filling the holes.
On April 8th, those weekly security patches will stop.  But, the bad guys won't quit searching for new flaws. And, they will find them.  In fact, most IT gurus suspect that hackers are not acting on the flaws they have discovered recently;  they are waiting until after April 8th to unleash them on the Internet where they will flourish unchallenged.
Worse, many flaws deep in the Windows code are in routines written originally for Windows XP which also have been used by the newer Windows 7 and 8.  Windows 7 and 8 will continue to be updated, and hackers are going to watch carefully for what is patched by Microsoft.  These evil coders will see if routines fixed in Windows 7 and 8 are also present in Windows XP.  In effect, the weekly updates to the recent operating systems will point out to bad guys where they should attack XP systems.

Anti-virus and anti-malware programs won't be able to protect you against all of the attacks which are based on exploiting flaws in the operating system.
The attacks typically come from email attachments and scripts embedded on sleazy web pages you're tricked into going to or which you've gotten to because you've mistyped the web address.  It's hard to never typo www.ammazon.com instead of www.amazon.com! It's easy to get fooled into clicking to open an email attachment or to visit a site that's supposed to let you download a video but instead tries to send you a malicious program.
Once on your computer, the evil applications can monitor your keystrokes to get your bank username and password and then send off the information to the program's authors in Russia.  Or, the program can encrypt everything on your disk and demand that you send cash to a blackmailer if you want the key to decrypt your photos, financial information, and documents. Or, … whatever!
In my opinion, you should not use a Windows XP computer on the Internet after April 8th.  It's just too dangerous.
If you're running XP now, you have two choices.
One is to update the computer's operating system to Windows 7 or 8.  However, many old computers do not have the minimum resources required for these new operating systems.  And, even if they can run a newer version of Windows, they will do so very slowly.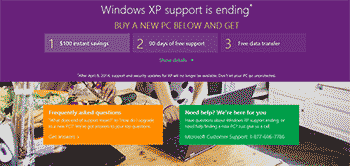 Therefore,  I recommend that you purchase a new computer. Hardware prices are less than 1/3 of what they were in 2002, according to Microsoft (1). Plus, Microsoft is offering a $100 "instant savings" on computers you buy through them to replace an XP box.
Whether you go through Microsoft, pick up a new PC at Costco, or switch to a Mac, you'll be okay. But, please, do not keep running XP!  I really don't want to spend the rest of 2014 helping people who kept using XP thinking that they'd be okay because they don't view porn, shop online, or do anything stupid.
No matter how careful you are, your XP computer will be vulnerable after April 8th.  Please, update!