An Internet Consultant's Views, Thoughts, and Suggestions!
Ozdachs offers a discussion of tech-related topics based on our experience designing websites, helping organizations use social media and Internet marketing. These comments are our opinions and views, and your comments are welcome!
A more straight-forward outline of Ozdachs' consulting services is presented at our Internet Marketing and web design business site.
Please scroll through the recent posts appearing on this page and following blog pages (click Read More on any summary to see the full post). Or, find information on a specific topic using the search box on the top of the page. Or, browse posts sorted by categories (see the drop-down menu on the right sidebar).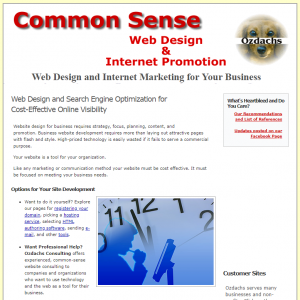 Our business website looked great when it went live in 2002. It was modern, clean, quick-to-load, and full-featured. We did updates and edits throughout the years, but the basic layout and functionality was rooted in standards and technology of the early new century.
The original home page is shown on the right (and click on the picture to go to the actual old site).
But, we're not in 2002 anymore. It was way past time to create an updated Ozdachs.biz, and we were happy to go live with a new look in early July.
Here are 4 major changes we made… and ones you should consider doing, if your site is 16, 10, or even 6 years old!
Responsive Design
Responsive design means that your site responds (displays) differently depending upon the layout and […]